Our online AML Training will help your business comply with AML regulations and avoid financial penalties. The global cost of non-compliance hit $2bn in 2021. How will we help you ensure your business doesn't add to this?
How does our solution help you?
Our AML Training offers a comprehensive overview of the key information your employees need to be aware of to ensure your business is compliant, including:
What constitutes Money Laundering
How to spot money laundering and red flags to look for
What to do if Money Laundering is suspected
Legislation to comply with and how to comply with it
Know Your Customer regulations
We have a full length AML course which will teach your employees everything they need to know. We also offer a number of supplementary courses with specialise in specific areas such as AML and Terrorist Financing, and Money Laundering in Money Service Business.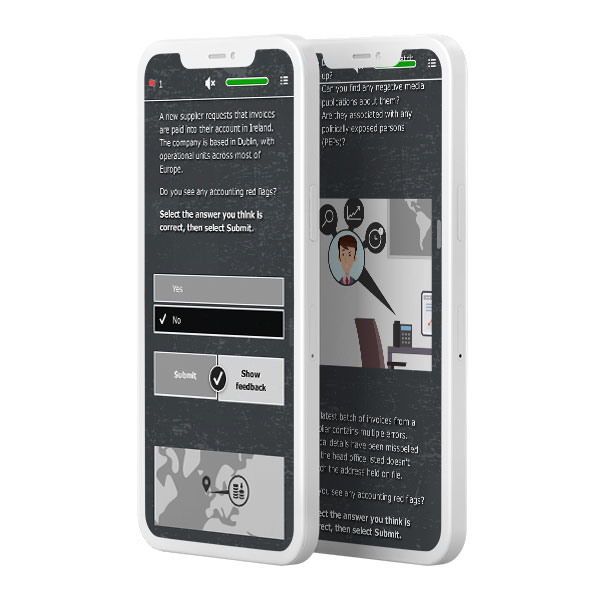 Why choose our AML Training?
Our CPD Certified Anti Money Laundering Training courses will help your business maintain compliance with AML Regulations and avoid the associated severe financial penalties.
How will we do this?
By keeping your learners engaged with their training and maximising their knowledge retention. Our courses utilise a refreshing blend of learning techniques including:
Interactive, scenario based learning
Gamification (challenge and gameplay based)
Microlearning (5 minute, bite sized training courses)
Detailed Study

This variety of learning styles helps to counter employees views of mandatory regulatory training being boring and repetitive especially when they have to do it year after year.
The breadth and depth of content that our online AML Training offers ensure that you can serve your employees fresh content which is visually appealing, engaging and interactive.
We offer a variety of flexible pricing options that can be tailored to your requirements. The figures below are indicative costs, please contact us for a more specific quote.
Number of Learners
Cost (per year)
50 - 100

£34.50 / per learner

101 - 200

£29 / per learner

201 - 300

£23 / per learner

301 - 400

£17.50 / per learner

401 - 500

£11.50 / per learner

500+

£ POA
What do we do differently?
Our Anti Money Laundering Training courses are created by a combination of Subject Matter Experts and Learning Professionals.
Our Instructional Designers create the content and are highly skilled educators who understand how to create experiences that make learning easy, engaging and actually enjoyable!
What we don't have is people who can simply use software to create eLearning.
What we do have is people with a passion for creating engaging, memorable learning experiences that actually help employees to retain information and ultimately help your business to be compliant.
How do users take their courses?
Our courses can be taken online but for optimum performance we recommend using them with our intelligent, AI driven Learning Experience Platform- Astute.
Are translated versions of your courses available?
Yes- we offer our courses in 70+ different languages. Many of our courses have been translated by native speakers.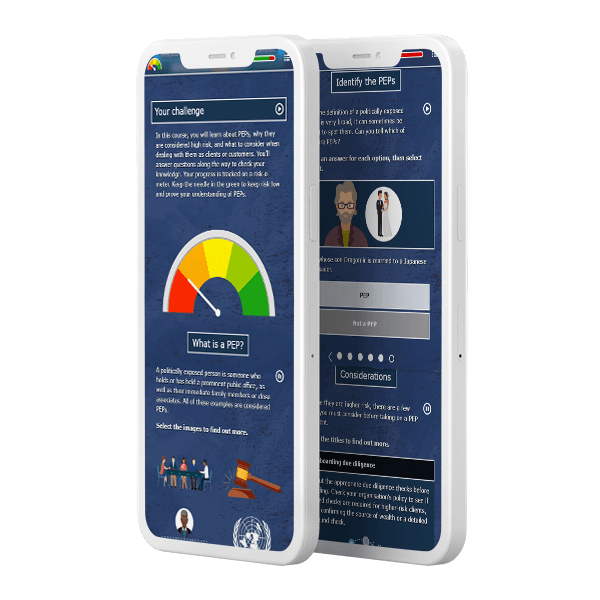 Why choose DeltaNet International?
We have over 20 years' experience helping Mid-Market and Enterprise level clients achieve their Compliance, Health and Safety and Performance Training objectives
We currently help over 1000 clients to create compliant, safe, high performing teams
We are a trusted solutions provider to the likes of Sony, BMW, Allianz, eToro, Canon, Suzuki and Electrolux
With PLC financial backing, we are constantly funding innovation, developing new products and learning techniques to help your business achieve its goals
Why not take a 7 day trial of our courses and try them at your leisure?
Your Anti-Money Laundering (AML) Toolkit
Insight
How can Organisations be Anti-Money Laundering Compliant?
Insight
What is Money Laundering?
Insight
5 Basic Money Laundering Offences
Insight
What are the signs of Money Laundering?
Insight
What are the Anti-Money Laundering Laws and Regulations?
When you send us a message one of our friendly, knowledgeable eLearning experts will contact you as quickly as possible