For any organisation looking to offer its employees a consistent, quality eLearning programme, a Learning Management System (LMS) is a must.
There are hundreds on the market, so choosing the right one for your business out of the many examples can be tricky.
What is an LMS?
Learning Management Systems are the software platforms through which educational and training content is delivered. Companies invest in LMSs to track their workers' learning and development, keeping all of their courses, materials and completion data in one, easy-to-access place.
Put plainly, LMSs simplify the process of delivering eLearning.
Choosing an LMS
With all of the different examples of LMSs available, choosing one can feel like a huge task. It will depend on the needs of your organisation and learners.
There are free open source options available, many of them with sizeable communities. However, the saying "you get what you pay for" often applies here. Open source LMSs don't come with the professional support that the best commercial options offer. This can lead to frequent bugs, technical problems and a long time devoted to set-up and maintenance.
Alongside the term "LMS" is a newer term: Learning Experience Platform (LXP). Sometimes these terms are used interchangeably. However, LXPs offer an upgraded user experience.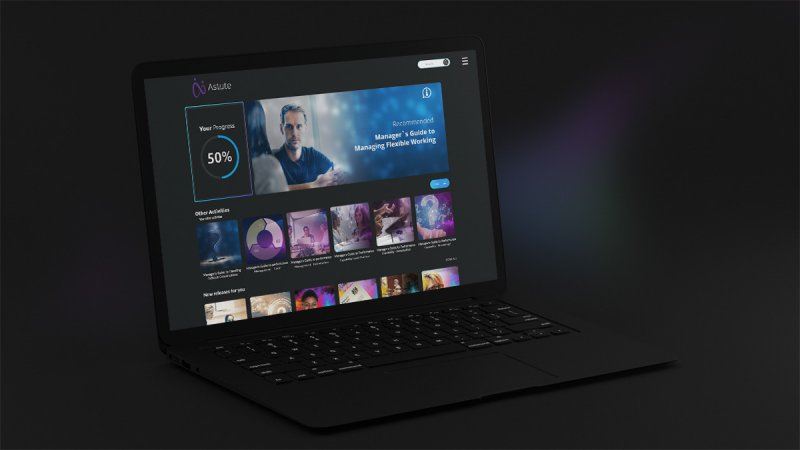 LMS vs. LXP
The major difference between traditional LMSs and LXPs is personalisation. With an LXP, learners are presented with suggested courses to take next, based on their previous actions and preferences. Our Astute platform has an upgraded interface and uses AI to provide the most accurate possible suggestions. These are presented to the user in relevant categories, similar to the "You May Also Like" format favoured by many streaming services.
This provides a more open-ended experience for the learner. They can pick up skills that interest them, prepare themselves for a change in their roles or find other ways to expand their learning experience beyond just the "required courses". LXPs also tend to be designed with mobile use in mind, making them easier to use "on the go". This amplifies one of eLearning's main advantages: its flexibility.
Where is an LMS used?
Wherever there is a need for online training, you're likely to find high usage of an LMS.
Colleges and universities have long relied on online systems to store their learner data and keep track of essay submissions, learning outside of traditional lectures and seminars, and administration. They can be used to connect learners with their tutors in a convenient way for both. One of the major benefits for educational establishments is that LMSs can store learning resources that can be accessed at any time by students enrolled on the appropriate course.
Businesses are increasingly turning to eLearning, with more making the switch every year. They're finding it's often more cost-effective to handle topics such as Compliance and Health and Safety this way, where learners can cover the material at their own pace and return to it afterwards when they need a refresher.
Some continue with some aspects of the traditional classroom-based training alongside their eLearning courses – this approach is called 'blended learning' and offers the best of both worlds.
Choosing the right LMS from those available can be a difficult project. It involves careful consideration of the needs of learners. The right choice can greatly help your efforts to deliver a successful eLearning programme.