If you have received online training during your career, chances are you have used a Learning Management System (LMS) of some kind.
Learning Management Systems are the most popular way for companies to deliver their online staff training. They can ensure that everyone completes their mandatory learning and receives the correct refresher training in subsequent years. They keep all of an organisation's training resources in one easy-to-access place and allow learners to make their way through learning curriculums at their own pace.
What is an LMS?
In recent years, eLearning and blending learning (a mixture of face-to-face and online training) have become popular ways for companies to train their staff. With the greater flexibility and value for money that quality eLearning can provide, business leaders are increasingly seeing the benefits of investing in it.
Put simply, a Learning Management System is the software platform through which educational and training programs are delivered. Companies purchase LMSs to keep track of their learning and development, with all courses, materials and completion records kept in one secure place.
Typically, the LMS will have a system for tracking and documenting the learning journeys of each person. Administrators play a key role in the successful use of an LMS. Their tasks include enrolling learners on the correct courses, uploading new or updated courses and tracking progress.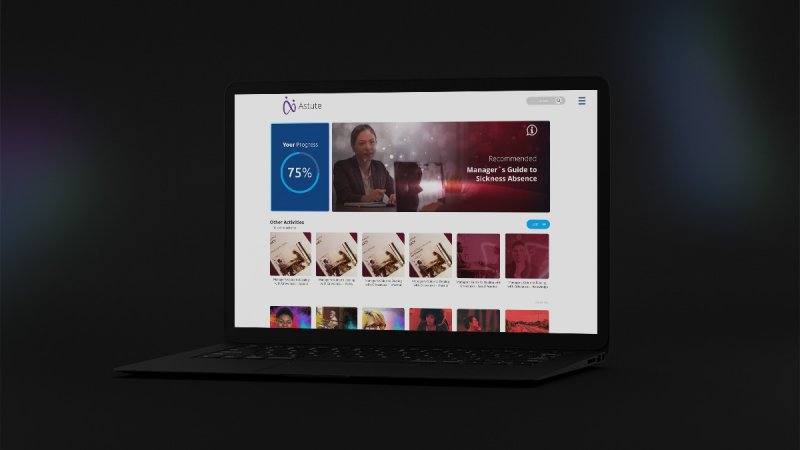 The LMS entered the learning and development industry market in the 1990s and has been the dominant system for delivering eLearning since. Recently, there have been alternatives on the market, such as Learning Experience Platforms (LXPs), which use AI to deliver personalised suggestions for the next piece of eLearning content for a worker to use. The interfaces of these systems tend to mirror those of popular streaming services and online shopping sites, following the "You May Also Enjoy" style of delivering content. Many of the tasks that were traditionally part of the administrators' role are now automated, freeing up their time for other tasks relating to the successful delivery of their learning and development aims. LXPs also tend to be easy to use "on the go", with mobile device optimisation forming a key part of their design. However, modern LMSs also take into account this increasingly popular, flexible way of consuming eLearning materials.
Often, the terms LXP and LMS are used interchangeably, although there are many differences. Our Astute platform has recently undergone a major redesign and upgrade. It has retained all the functionality it had before but now has a more user-friendly interface and greater capability for producing personalised suggestions for further learning.
How is an LMS used?
LMSs provide a central space in which to store all of a company's eLearning materials. This makes it easier to enrol learners on the right courses to make sure they're improving their skills in the areas that matter. It also makes tracking each learner's journey much simpler, keeping a record of each course they have taken, when they took it and their passing score.
The features of each LMS or LXP will vary. However, they will all provide a way of tracking the courses each learner has taken and passed, and a way for administrators to enrol certain groups of people on to different learning pathways.
When selecting material for the course library, administrators have a wide variety of content to choose from. eLearning is a fast-moving industry where techniques and course design styles are constantly evolving. Courses range from full-scale training modules spanning hours to five minute 'microlearning' options, designed to give the learner a brief overview of the topic or a quick refresher. Sometimes it's possible to order bespoke content or tailor off-the-shelf courses so they reflect the company and its branding.
The reason LMSs have grown in popularity over the years is simple: they provide a handy, user-friendly and technologically advanced way of organising a company's eLearning materials.