For most organisations using eLearning, a Learning Management System (LMS) is the platform of choice for delivering their courses.
Thousands of companies have discovered the benefits of eLearning. With the greater value for money, flexibility and ease of storing learner records, more and more are making the switch all the time. But with so many types of LMS on the market, how do you choose?
What is an LMS?
An LMS is a software platform for storing eLearning courses, learner records and other training materials relating to an organisation's learning and development programme.
Administrators can set up and enrol learners in the relevant courses and track their progress. They can also add new courses and, in many cases, tailor the courses so they make sense for the company or include company branding.
LMSs have long been the preferred platform for eLearning. Recently, a new type of learning platform has emerged: the Learning Experience Platform (LXP).
LXPs perform all of the functions of the LMS and tend to have user-friendly interfaces, designed for working on the go as well as from a desktop. They also use AI to deliver learners personalised suggestions for further activities and courses, often grouped under different categories depending on which aspect of their skillset they want to improve next. This "You May Also Like…" function is familiar to many users because of streaming services and online shopping sites that use a similar system.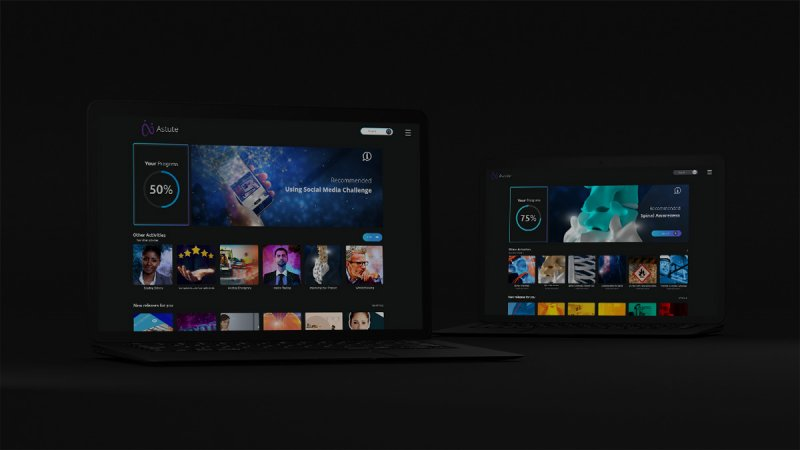 User Experience
The best LMSs and LXPs are built with user experience in mind.
As well as desktop learning, it's important to make sure your employees can access their eLearning wherever is most convenient to them. More and more people want to learn on the go and modern eLearning platforms need to adapt to the reality of mobile devices.
Use of Data and AI
Learners are used to their preferences and online behaviour being taken into account to decide on the material they are later shown. Many modern LMSs and LXPs make smart use of workers' data, including which courses they pass and which learning activities they prefer to use.
Engagement is key with all eLearning activities, so suggestions for further study are an important part of keeping people's interest. Nobody wants their training to be relegated to "just another task to tick off" – it should fit into each employee's workflow and provide clear benefits to them and their company.
Support
Even with the most user-friendly LMS, there will be times when you need support to get the most out of it.
When you purchase our Astute platform, you get access to a dedicated support team. They can help you during set-up and maintenance and are available for any questions you might have.
Investing in Learning
A company's learning and development programme is one of the most important things for it to invest in. Each employee benefits from a good online training programme, strengthening their existing skills and learning new ones. The benefits to the organisation are also clear: being up to speed on compliance and health and safety protects the company and its assets from everything from cyber-attacks to fires.
Choosing a good LMS is an important aspect of this. With so many on the market, it can be hard to work out which is the best fit for your business. By taking into account the user experience, support available, use of data and AI, organisations can be sure they're making the right choice when investing in an LMS.