The Health and Safety Executive in the UK are responsible for ensuring driving at work policy is well known and enforced within the workplace. Driving at work policy consists of: the Health and Safety at Work etc Act 1974, the Management of Health and Safety at Work Regulations 1999, and the Road Traffic Act. The Health and Safety Executive requires employers uphold their legal duty to ensure all driving at work policies are enforced and their employees are well aware of their responsibilities when driving at work.
As an employer, it is your responsibility to provide training and communicate driving at work policies around the workplace.
What are the essential aspects of an organisation's driving at work policy?
Driving at work policy effectively needs to state the employer's responsibilities regarding driving at work, and the responsibilities of the employees who will be conducting the driving.
A driving at work policy must include the following:
– Conduct a risk assessment which effectively analyses all risks which could be associated with driving at work.
– Initial training for employees who will be driving at work. For example, this could be a day of intense training to ensure the selected employee is effective at driving and is safe to be on the roads.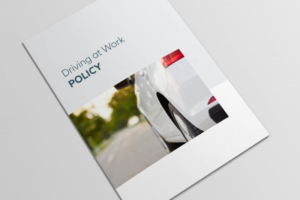 – Maintenance of vehicles to ensure all vehicles are safe and roadworthy. This should be continually checked to ensure any problems with the vehicles used at work are identified and fixed.
– Organise all of the journeys for all employees so they do not have to take responsibility for this themselves. By planning the routes for employees, all risks can be taken into consideration and all roads and areas which employees are entering can be investigated for risks.
– Ensure you have identified all of the roles involved in driving at work. Do you know all of the employees whose jobs involve driving, even occasionally?
– Make sure you regularly check up on your drivers and their vehicles to assess their performance and whether it is still up to the standard expected by UK health and safety legislation, as well as the employer's driving at work policy.
– Ensure that you have communicated your driving at work policy well to all employees so that they are aware of their responsibility to report all incidents and problems which occur on the roads.
– Regularly analyse your driving at work policy to decide whether it needs updating.
Driving at work can be a significantly dangerous role to hold within an organisation, and therefore it is an employer's responsibility to ensure an effective driving at work policy has been established to protect all involved. If an employer does not comply or provide a driving at work policy, the UK Health and Safety Executive will take appropriate steps to punish the organisation. Training and well-formed knowledge of driving at work is essential for both employers and employees.