You should call 999 when you require the urgent assistance of medical professionals, the police or the fire service to help you in a state of emergency. The NHS provide alternative helplines for situations which are not classed as emergencies but require some minor assistance. The UK's emergency services' time is valuable, and therefore it is important to know when – and when not – to call 999.
When should you call 999?
Call 999 if a medical emergency, a crime or a fire has taken place and you require urgent additional help. Consequently, extra assistance and equipment will arrive to a scene where the surrounding people cannot act appropriately.
Medical Emergencies
A medical emergency constitutes a situation where an individual's life is at risk and it cannot be helped or controlled by those at the scene. By calling 999, an ambulance will be sent to the scene to provide medical care and attention.
Medical emergencies can include: Heart attacks, burns, difficulty breathing, seizures, fits, loss of consciousness, continuous bleeding and severe injuries.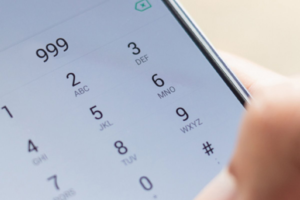 Crime
If a crime has taken place, call 999 to alert the police and they will send essential people to the scene to assist the situation.
Fire
If a fire is taking place and cannot be controlled by those at the scene, calling 999 will alert the fire service to arrive at the scene and control the situation.
What happens when you call 999?
When you call 999 in the case of a medical emergency, the following steps will take place:
An operator will ask you which emergency service you need: Ambulance, police or fire services.
You will need to supply the following information: Your location, phone number and what has happened.
You will then supply some extra information whilst assistance is on its way: Patient's age, gender, medical history, consciousness, breathing, symptoms of bleeding or pain and extra details of what has happened.
The operator will then explain how you can help the patient whilst assistance is on the way.
When shouldn't you call 999?
Do not call 999 if the medical issue is not life-threatening, and therefore does not require additional medical assistance straight away.
In a situation where an individual has experienced an injury, but is not in severe pain and it can be handled by the first aiders in the surrounding area, the 111 helpline can be called.
111 is the NHS helpline which should be called if you require extra information about an incident or if you need reassurance regarding a medical issue. If 111 believe an individual's symptoms are slightly worrying, they will send an ambulance to you or ask if someone can drive you to A and E.
There have been cases where people have called 999 with false allegations, and this has potentially serious consequences. Committing a crime such as this, which uses up the valuable time of our emergency services, is disorderly conduct. Therefore, it is important to educate those around us regarding the importance of respecting our emergency services and their valuable time.
Knowledge of how to use the 999 helpline properly is essential, particularly in the workplace when you have the responsibility of many people around you.