The UK's Food Standards Agency is an independent department of the Government, responsible for calculating food hygiene ratings to help consumers choose where to eat and buy food. The food hygiene rating scheme gives food businesses a rating from 0 to 5, which is accessible to consumers to view and consider. Understanding how the food hygiene ratings are calculated is important to ensure your business's hygiene standards are reflected positively to consumers.
The Food Standards Agency inspects and calculates a rating for any type of food business which supplies, sells or serves food to consumers. This includes:
Takeaways
Restaurants
Pubs
Cafes
Hotel restaurants
Supermarkets
School canteens
Hospitals
Care homes
Elderly care homes
Food Hygiene Ratings
According to the UK Food Standards Agency, the food hygiene rating scheme is calculated by the following:
0: Urgent improvement is required.
1: Major improvement is necessary.
2: Some improvement is necessary.
3: Hygiene standards are generally satisfactory.
4: Hygiene standards are good.
5: Hygiene standards are very good.
The Food Standards Agency operate this rating system in conjunction with a local authority and provide a food hygiene rating sticker which can be shown at the premises.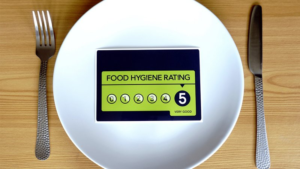 How do they calculate the food hygiene rating?
When rating a food business, the Food Standards Agency assess the food hygiene standards which they encounter at the time of inspection. The Food Standards Agency will look out for particular types of food hygiene practices which are taking place and therefore food businesses must conduct high standards of practice at all times.
The Food Standards Agency will take into consideration the following when calculating a rating:
How the employees handle food in the premises.
Whether food is stored correctly and hygienically.
Whether food is prepared correctly and hygienically.
Are the facilities clean to cook and prepare food within?
How effectively are food safety and hygiene practices managed?
Are all employees aware of food safety and hygiene practices?
To find the food hygiene rating of a food business, you can simply look this up online, or check if there is a sticker at the premises, which will state the date of inspection by the local authority's food safety officer. In England, businesses are encouraged to display their hygiene rating sticker but do not legally have to do so. In Wales and Northern Ireland, businesses are legally required to display their hygiene rating sticker in an easily seen area, such as a window.
In October 2019, following the inspection of more than 250,000 food businesses, it was found that 1 in 20 food businesses were issued with a failed hygiene rating by the Food Standards Agency. There is a drive to improve the hygiene ratings of food businesses across the UK.
Food hygiene ratings can reflect positively on a food business and attract more clients to their products and services. Therefore, it is important implement good food hygiene practices into your food business.