Exposure to hazardous substances remains one of the most serious threats to workplace health and safety. Around 5000 people die from the effects of asbestos exposure in the UK every year – more than the number killed in road accidents.
Hazardous substances – defined as any material with the potential to cause harm to people or the environment – are responsible for many immediate and long-term health conditions but with the right control measures in place, workers can be protected from these.
Immediate Health Effects
Some hazardous substances produce immediate effects upon exposure such as irritated eyes or skin rashes. Depending on the hazardous substance, the effects can be short-term and treatable with the right medical care, or they can be serious or even fatal.
Fibreglass dust can cause immediate or "acute" health issues. Most commonly, it can irritate the eyes. It can cause breathing problems when inhaled and skin rashes on contact. Appropriate control measures should be put in place and effective PPE should be worn, including eye, mouth, nose and skin protection.
Corrosive substances can cause extensive damage immediately upon contact with the skin or eyes. With most acids injuries, the area should be washed extensively with water and any contaminated clothing removed; this can help to minimise the permanent effects on the victim's health.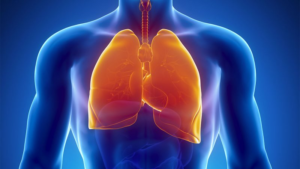 Long Term Health Effects
Asbestos is one of the strongest examples of a substance that doesn't always cause immediate physical harm to a person but can wreak havoc on them many years after exposure. Mesothelioma, asbestos-related lung cancer, asbestosis and pleural thickening are all caused by inhaling asbestos fibres.
Although asbestos was banned in 2000, it's widely present in buildings constructed before that year and the annual death rate is still high. Some experts have argued that the DIY boom of the 1990s could have led to a spike in exposure that may not become fully apparent until the health effects are evident in years to come. Asbestos is still very much a current issue and awareness is as important as ever.
The primary piece of UK asbestos management legislation is the Control of Asbestos Regulations 2012. Due to the grave consequences that follow exposure, the Health and Safety Executive (HSE) takes this extremely seriously and will prosecute where necessary. In August 2018, Macclesfield company Wood Treatment Ltd were fined £2000 and costs of £3170 after contravening asbestos regulations. The company had an Asbestos Survey and Action Plan but these were not communicated to all employees and some panels protecting workers from asbestos had been cut away, changed and replaced, heightening the risk of disturbed asbestos making contact with people. The HSE claimed their actions had put people at serious risk.
Exposure to lead can cause both long-term and immediate effects. Even a one-off exposure to a large quantity of lead can cause symptoms such as tremors, anxiety, headaches and dizziness, and even cause fatal complications. Long-term exposure can cause damage to organs because it is absorbed into the bloodstream. There are many problems that can arise from workplace exposure to lead, including issues with fertility and childbirth, kidney disease and damage to the nervous system. Though most countries have now banned leaded petrol, for years it caused widespread health problems, especially for children growing up in urban environments where the air pollution was higher.
Environmental Effects
Substances are classed as hazardous if they're harmful to either human health or the environment. There is a great deal of overlap between the two, with many hazardous substances posing a threat to both.
Widely used in agriculture, pesticides need to be used with the utmost care to avoid damage to wildlife. One of the most extreme examples of this is DDT (dichlorodiphenyltrichloroethane). Banned in the UK in 1986 and worldwide in 2001, DDT is thought to be responsible for the deaths of millions of birds and other animals. Other kinds of pesticides are believed to pose a risk to insect and hedgehog populations.
In many offices, the most common form of potentially hazardous waste is used electrical equipment. Chemicals present in laptops, mobile phones and lighting equipment can all contribute. It's very important that such waste is disposed of correctly to eliminate any environmental damage. The Waste Electrical and Electronic Equipment Directive (WEEE Directive) provides employer obligations and targets for reducing this kind of waste in businesses.
Almost all companies handle hazardous substances during their work, so every organisation needs to carefully consider their potential effects on their workers, the public, animals and the environment. When safety regulations are followed and hazardous waste is removed responsibly, these effects can be minimised – and hopefully, employees won't be left to deal with debilitating health conditions years down the line.