Falls, slips and trips account for a large proportion of workplace accidents and injuries. Just as with fire safety, working at height, hazardous substances and any other health and safety topic, they need to be treated with the greatest concern and risk assessed to ensure everyone is doing everything they can to prevent these kinds of incidents.
Once the risk assessment is completed, it should be communicated to all staff, and they should be properly trained to recognise and handle risks.
What should a Slips and Trips Risk Assessment include?
A thorough slips and trips risk assessment answers the following questions:
What hazards are there?
Who is affected by these hazards? Do they pose more of a threat to some groups or individuals than others?
What action is being taken to address these hazards? Who's responsible for making sure the control measures are carried out?
When were these control measures put in place and when will they be reviewed?
To make sure all of these areas are covered for each slip and trip hazard, it might be useful to write it down in a grid system. Though only employers with five or more staff are required to produce a written document, smaller companies sometimes find it helpful to do so anyway, as they're still required to have a risk assessment and communicate it to their staff. It provides a useful record and a way of making sure every employee is aware of the potential hazards they face.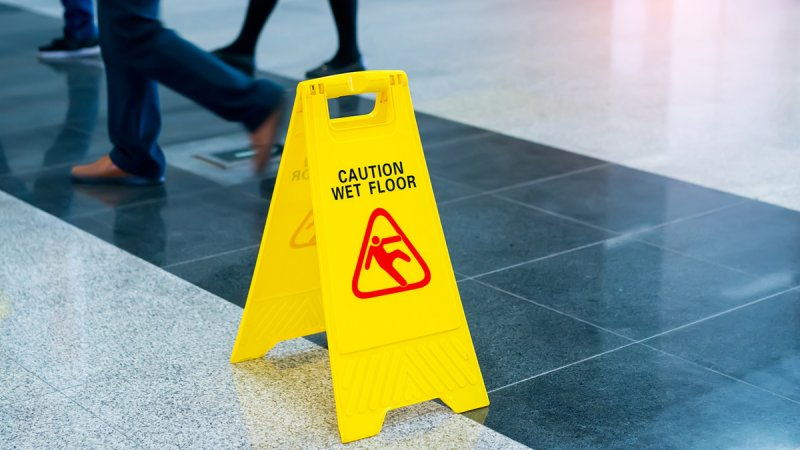 A straightforward example of a hazard being risk assessed is:
Hazard – Boxes left in the main corridor after daily deliveries are causing a trip hazard.
Who might be harmed? – All staff, but particularly the employees whose department works from the nearby office rooms.
Control measures – Set aside a storage area where boxes can be left after delivery until they're ready to pick up.
Who needs to know – All staff but especially those who handle deliveries when they come in.
Review – Look into it whenever the risk assessment is updated and monitor it on an ongoing basis to ensure the new delivery area is being used.
Risk assessments should be reviewed regularly. They also need to be updated whenever there's a change in circumstances – for example, a change in the layout of an office, or new starters being brought on board. Certain risks need to be monitored on an ongoing basis. Flooring, for instance, can become damaged through general use, and upturned or damaged carpets can produce additional risks. Some hazards can be managed by one permanent control measure (e.g. improving lighting in a specific part of the workplace) and others need ongoing care (e.g. high spillage areas that need cleaning regularly).
Both permanent and temporary hazards should be taken into account. Many hazards will always be there but others will be dependent on circumstances, such as entrances that become slippery during wet weather. No workplace can be complacent about its slips and trips risks, but kitchens are at a particularly high risk of these kinds of accidents since spillages are more common and work is often conducted at speed.
Importance of Risk Assessments
Risk assessments don't need to be difficult or particularly time-consuming. The time invested in properly handling the risks of falls, slips and trips is time well-spent. It avoids the human cost of an injured employee and the business costs of their absence and any possible prosecution; it's a key part of an employer's duty of care towards its staff and the public.
It's helpful to consult all members of staff when writing the risk assessment. They will have valuable insight into the situation on the ground in their area and may bring to light hazards that you didn't know about before – many of which are easily fixed.