The Work at Height Regulations 2005 came into effect on 6th April 2005 with the aim of reducing the amount of accidents at work caused by falls from height. The term "working at height" means undertaking any work (whether on, below, or above ground level) where there is a risk of falling, or where objects could fall and injure the workers below.
In the year the regulations were introduced, there were 46 workplace fatalities caused by falls from height. In 2017/18, this figure had fallen to 35. Although this is a significant reduction, it is still 35 deaths too many and falls from height continue to be the most common cause of fatal accidents at work. Following the regulations is more important than ever.
Who do the Work at Height Regulations 2005 apply to?
All employers are bound by the laws regarding working at height. They also apply to anyone who contracts others to work at height or controls work at height. This can include building managers, facilities managers and the owners of the premises in question.
As with all health and safety matters, training and learning about the relevant legislation can be useful to the employees themselves, as this will allow them to better protect their own safety whilst conducting the work and flag up any breaches to their employer or the authorities.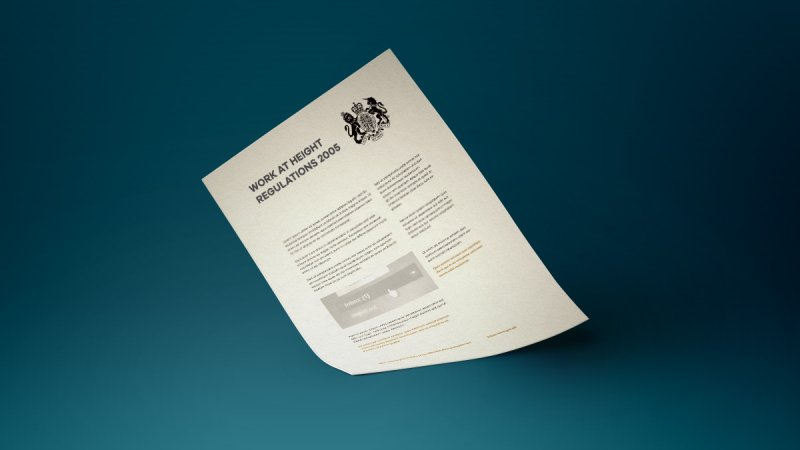 Why are the Work at Height Regulations 2005 important?
Falls from height can have devastating consequences for the people involved and their families. They account for 8% of non-fatal accidents and nearly a quarter of fatal accidents in the workplace. Of those where the victim survives, a significant amount require extended periods of leave to recover. In some cases, they will find it difficult to return to their previous role and may have greater physical challenges for the rest of their lives.
In May 2018, construction company Fleming Builders were fined over £9000 after pleading guilty to breaching the Work at Height Regulations 2005 and the Health and Safety at Work etc. Act 1974. A self-employer joiner working on their behalf fell more than 3 metres onto some timber and suffered an injured spine and ribs. The company involved did have a risk assessment in place but has not taken necessary steps to prevent this type of incident, such as a safety net.
What Duties do the Work at Height Regulations 2005 give Employers?
Employers – or those supervising or otherwise in control of the working from height – must ensure all work is planned, properly supervised and carried out by people who are competent and able to carry out the work to an acceptable standard. They must be provided with the most suitable equipment for the job and sufficient training to be able to undertake the work professionally.
Along with other British health and safety legislation, the regulations require employers to conduct a thorough risk assessment before work is carried out to minimise risks to the greatest extent. They need to take after practical step in their power to protect the wellbeing of their staff and the public at all times.
The Health and Safety Executive (HSE) guide to the legislation states the overriding principle for employers: "you must do all that is reasonably practicable to prevent anyone falling".