Working at height can be a dangerous part of a worker's occupation. Responsible for 8% of non-fatal accidents and causing more deaths in the workplace than any other issue, protecting employees from these risks is one of the key responsibilities organisations have.
A big part of ensuring staff safety when working at height is choosing the right equipment for each job. All equipment should be checked thoroughly before and after each use in case of any damage.
In December 2016, Volvo were fined £900,000 after an employee fell from a badly-maintained stepladder, suffering serious injuries and being placed into a medically induced coma for two weeks. The stepladder was not the companies' property but they had failed to properly train their staff to inspect equipment such as this and no precautions appeared to have been in place to prevent people from using worn, damaged stepladders. The employee involved suffered ongoing complications and was unable to return to work for a significant period of time following his fall. This incident highlights the importance of proper staff training in the use of equipment for working at height.
The main piece of legislation for this subject is the Work at Height Regulations 2005. Employers must ensure they're compliant with all aspects of this legislation.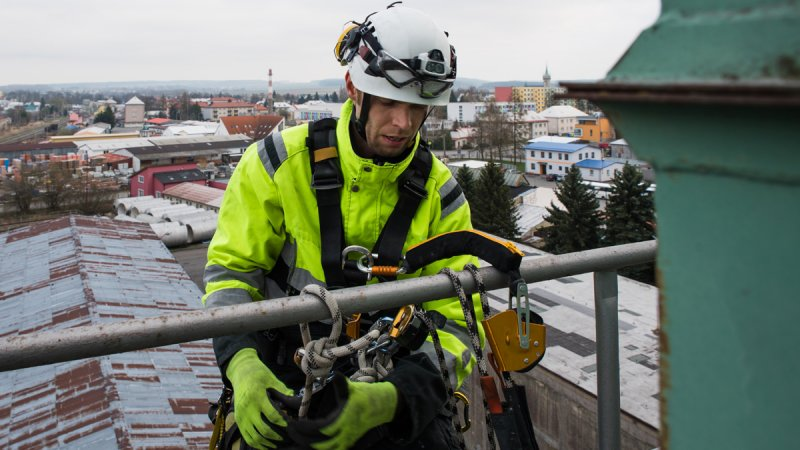 Selecting the Right Equipment
As with all health and safety hazards, the best way to remove the danger is to eliminate the hazard entirely. This might be possible by using extendable tools. For example, in a window cleaning business, extendable cleaning tools can remove the need to climb a ladder for some jobs.
Where this is not possible, the safest access equipment should be chosen.
Ladders and Stepladders – There's a misconception that ladders and stepladders are banned by health and safety legislation but this is not the case. The Health and Safety Executive (HSE) says they can in fact be a good choice for low-risk, short duration working at height tasks. Ideally, a worker should be up a ladder for no longer than thirty minutes; if the job takes longer than this, their employer should consider alternative equipment. The risk level is the key factor in deciding whether or not to use a ladder.
Once selected, the ladder or stepladder should be thoroughly inspected to make sure its rungs, stiles and feet are not worn and that it is in good working condition. It's important to never use a ladder or stepladder if you have any doubts about its safety.
Scaffolding – All scaffolding and tower scaffolding should be assembled by trained professionals. The Work at Height Regulations 2005 state that scaffolding should either be assembled to a recognised specification or designed to a bespoke calculation by somebody competent to do so.
Always ensure the scaffolding is erected on firm, level ground.
Platforms – Mobile elevating work platforms (MEWPs) and other, similar equipment can be a safe way to undertake longer working at height tasks. However, all access equipment comes with risks, and with MEWPs people should be aware of entrapment (getting stuck between the basket and a hard surface), overturning, falling and collisions, along with other potential hazards.
Unfortunately, there's no way to work at height that doesn't include some level of risk. Most accidents of this kind, however, are highly preventable with the correct training and if suitable, well-maintained equipment is used. Employers should judge each project on a case by case basis and produce a safety plan based on this, taking into account all issues specific to that job.