Working at height includes any task where a person could be injured by a fall – even if that's at or below ground level. Common settings including working on scaffolding, on roofing or on tops of vehicles or trailers. There's risk involved in all activities but work at height can be particularly dangerous, causing more fatal accidents than anything else in the workplace. By recognising the most likely hazards surrounding this kind of work, the proper steps can be taken to reduce the risks and ensure everyone gets home safely at the end of the working day.
Workers in construction, painting and decorating, window cleaning and maintenance are the most likely to be working at height on a regular basis. However, this type of work can appear in all industries – even using a stepladder to reach a high shelf in a warehouse or office requires the correct training and due diligence to ensure injuries don't occur.
Roofing and Other Surfaces
Falls through roofs and skylights are fairly common and can lead to serious injuries. In October 2018, Devon fabricator Langaton Steel Fabrications were fined £12,000 due to an August 2017 incident in which a 19-year-old worker fell through the roof of a petrol station he was working on. Suffering serious head injuries, a broken pelvis and a broken wrist, the worker could easily have been killed by the incident. His employer pleaded guilty to breaching the Work at Height Regulations 2005, the primary piece of UK legislation handling this kind of work.
Any work where pressure will be applied to roofing (especially roofing in need of repair) should be treated as high risk and control measures should be put in place accordingly. Even sturdy roofs can cause issues. Sloping roofs, such as those often found on bungalows or houses, can be problematic – people are more likely to lose their footing on them. Due to their shape, by the time the worker has fallen from the edge there could be considerable momentum built up, causing the impact with the ground to be stronger than it would be otherwise. Roof lights are usually made of weaker materials and can be covered over, making them harder to spot and thus easier to fall through.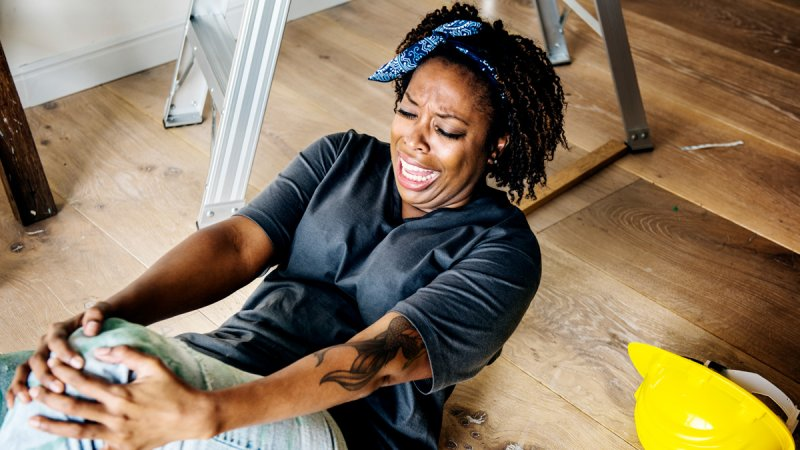 Badly Maintained Equipment (or the Wrong Equipment)
As with all health and safety hazards, the best way to deal with hazards is to eliminate them entirely – if this is possible. Certain types of work at height can be done from the ground level with extendable tools. For example, a window cleaner might be able to reach some of their target windows with extendable hoses and other equipment that removes the need to work at height at all.
Where work at height is unavoidable, the correct equipment must always be used. This could be access platforms, ladders, scaffolding or any other type of access equipment; the right choice will depend on the risk level, access difficulty and duration of the task at hand. For example, ladders can be a good choice for certain types of jobs (and aren't banned by health and safety legislation, despite rumours to the contrary in the UK in recent years), but they should only be used for short duration, relatively low-risk tasks. All equipment should be inspected thoroughly before and after every use.
In once case, a farmer was injured after falling more than two metres from a defective ladder. He was carrying out maintenance work on a ladder that wasn't secured properly and only had one rubber foot, causing it to topple during the job. Sadly, this is a common story, and 8% of non-fatal accidents in UK workplaces are caused by falls from height.
Lack of Training
Human error accounts for many workplace accidents and this is much less likely if staff have received good quality training about working at height.
Good training will equip employees to spot hazards and be mindful of which equipment is safe to use and what it looks like when properly maintained.
Weather Conditions
Working at height will almost always have added risk during times of adverse weather. During ice and snow, for example, the ground is likely to be less stable and can't provide such a solid grounding for access equipment. In many cases, it will be the safest option to delay the work until conditions are less extreme.